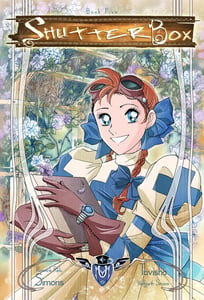 $

2.99
NOTE: A LINK TO DOWNLOAD YOUR eBOOK WILL BE EMAILED TO YOU UPON COMPLETION OF YOUR ORDER. (PDF FORMAT 61.458 MB)
ShutterBox, Book Five: The Angel of Death Unbalanced
168 Page Black and White Graphic Novel. Fantasy, Romance.
Damien, the Angel of Death of Unbalanced, has set and sprung a trap for Megan, anchoring her soul to the castle grounds of Merridiah University. She is a prisoner. But this seems a minor issue to Megan, for during her first attempt at musing a Human on Earth, she is shocked to discover she can influence clients across time as well as space.
A simple tug at centuries old heartstrings, and a visitor is brought forth to the present. Now Megan is left to foil Damien on her own, or so it seems ... for along comes a unicorn in a secret garden ...